Monday, July 28, 2003
Cerebral Grind...*Plop*


Helluva learning session @ my new office; brush up my accidental ***-cheek resting on HTML n do-it-yourself exercises of XML, Robohelp and HTML-Tidy. I contemplate I am forced to shed my gawk n reveal the GEEK *GRINS*.

Hey!! y'day was my official entry into Planet earth...umm if u insist, 22 years back. and here's my reflection on the course of events that's capsuled
in my personal history now.

@ Shaweta>> Quite a BOLD way to give vent to a feeling that blinds (partially) ur senses in the otherwise NORMAL life....while, I simply preferred not to show my embarassment in accepting it. I was facing a rapid-fire round in the EQ quarter of my brain...almost like the popcorns in a pre-heated oven; declaring it STRIKE ONE, as they do in baseball.

Why do they call it BASEball when all the ball does is to evade the down-to-earth propaganda of travel???

Funny people at my wrkplace eh!! They insist on long processes for something so trifle as picking your nose...*aachoo* :slurp:...ummm neva mind. Unless you are a real DOT and have ****ed up your life big time or insist on staying doped by ignorance, you'd wanna take a shorter route that doesnt really compromise on the quality. What's gonna b more Iblis-Q (ney...that aint Obelisk's lost bro) than labeling them all as PCL (Pakistan Computers Ltd.) products...Saale Pakis; awrite NO hate mails n abridged propaganda.

Hell!! NO. I am not to deflect from my chosen topic of rant.

:Runs pell-mell over cobbled stones preventing pitfalls:
*Thud*
*scamper scamper*
:The scimitar is drawn out of the scabbard:
*Swish*
-----------------------------------------------FADE AWAY
posted by Shivranjini Krishnamurthy @ 7/28/2003 09:13:00 PM

Thursday, July 17, 2003
Sample this...

bloggers are persuading politicians in the House of Commons to keep weblogs. India!! Any takers??? Those in favor of knowing more about struggles to STAND tall and cow-shed ordeals may say I. For DIGITAL effect-imagine being surrounded by goons with kalashnikovs forced up their ass n beer breath...Burp!. For the uninformed, that is the abbreviation for Indian Parliament (Wink! Wink!).

Buzz! Buzz!…a South Korean mobile phone operator is offering a downloadable sound wave that fends off mosquitoes. Now, does that sign ALL OUT to the Tortoise, Mortein, Odomos and co.

Announcement ! Announcement ! Announcement !

Watch this space to find out more on how to BUZZ OFF people.

GOOD NIGHT!! I say.

posted by Shivranjini Krishnamurthy @ 7/17/2003 09:58:00 PM

Of inertial bliss and conscious murk

What is the distance between life and death? I say, a nano-string called relationship. It keeps the body clock ticking till a fine dawn to face isolation…colossal solitude.

Paradoxically, humanity is made to see only the sentient murk. It is like seeking nirvana in a discotheque…when all you need to do is peep within. It is like dieting on the face of a hamburger shoved up your face. Sometimes your cerebrum bleeds such ****ed up ooze (like the shit that I am churning out right now), you just don't know what to do except maybe decide to **** it back.

This uncle of mine, just decided to wake up to utter tranquility…he broke free from the shackles of reticent gloom to embrace a slumber…so deep that people constantly insist his return. I want him back too…only to undo the string that he created or possibly redo it the BETTER (Smitten with relativity) way. I do not like to see the threaded pearls running down the cheek…

I refuse to continue.

Over and Out.

posted by Shivranjini Krishnamurthy @ 7/17/2003 09:54:00 PM

Friday, July 11, 2003
On the occasion of Being Human

Bamboozled that I am…humanity insist disjoining those that are united and an amalgam of those that r poles apart.

posted by Shivranjini Krishnamurthy @ 7/11/2003 12:20:00 PM

Wednesday, July 09, 2003
From Misnomer to Astronomer n all things sandwiched within

It feels like landing a job in moon… You'd b elated if that's wat you wanted to do all yer life; smitten with excitement if u wanted to feel moon n bored beyond recognition if your muse is earth.

Now, no doubt I'd be happier sitting in Liberia solving ethnic conflicts than sitting in frigid morgues racking my brains over how 1 precedes 0. But the same interest should earn me at least some peanuts to munch. Money, I say…is the root to most of my current miseries; my career stranded in the midst of nuthin, plans for higher studies shelved, nil bank account, constant tantrums @ home to get married * n.

Now chop it off will ye!!


posted by Shivranjini Krishnamurthy @ 7/09/2003 09:41:00 AM

About Me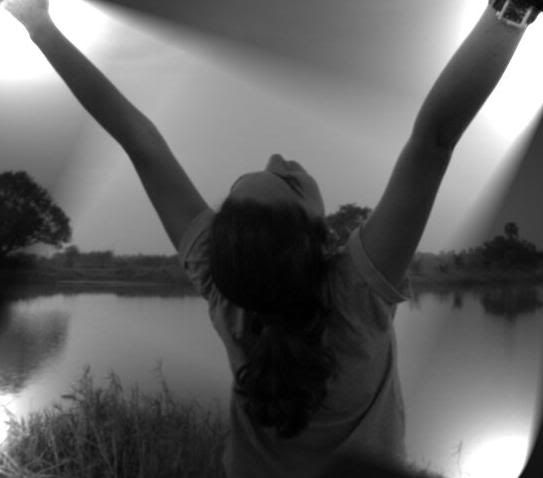 Name: Shivranjini Krishnamurthy
Home:
About Me:
See my complete profile
Previous Post
Archives
Also scribble at
Template By