Monday, October 29, 2007
Scribblings that never met the dawn
Reproduced here is a mini-collection from a huge pile of my writings - still to be published or never published for various reasons.

Why am I doing this?

Failure gets to me on gloomy days and I need audience for the sprouts from my peapod mind. Leave me a note - like it or hate it. Atleast I'd be read. *wink*


---------------------------------------------------------------------------------
(1) Travel Tales - Nagarjunasagar, Andhra Pradesh, India.
Quick facts:
Distance from Hyderabad: 160 Kms (check!)
Preferred mode of transport: Car or Bike
Duration: 1.5 days (max)
Two powerpuff women, one car and a back hatch full 'pick me up' food. I assure it wasn't mission: Feed Somalia.

For that fun-starved migrant IT junta in Hyderabad…weekends have long spelt Nagarjunasagar and close vicinities. Oh! And being Venusians doesn't earn you brownie points here. But if you can tide over occasional ogles, you just did yourself good.

By experience, you don't need a lot of field work before the trip. Just get out and head towards Begumpet, preferably in your personal vehicle. Stop as many times as it takes for you to get the routes right along the way. From a frustrated witness's perspective, the max you'd need to do this is possibly three to five times…that is if you score in negatives on the DQ (Duffer Quotient).

Alternatively, take the straight road from Secunderabad railway station to the Uppal crossroads. Drive straight past Kamineni hospital and reach the ring road junction and continue on the road marked towards Srisailam. You'll need to take a left turn ahead and the rest of your journey is one straight stretch of tar coaled beauty.

If placid waters and rising sun is what you lust, the author suggests get out in the wee hours of the morning and I bet you'll stop at the first sight of the water body on your right. The morning mist drapes it like honey-laced milk. Only it is water I talk about and I am not sure it is potable as is. Your urban lungs will reel in gratitude but I vouch it is as short-lived as your morning caffeine shot.

Nagarjunasagar is a place of contrasts. The water gushes from one end and growls at you like a monster with a toothache. The other side wears a tranquil shade of green and earthen yellow. The tarred Mercedes bends divide the two worlds. And if you road rage, the curves are all for you to explore. Oh! And don't miss the Hollywood spoof side of the dam wall. It reads…Nagarjunasagar Left Earth Dam. I think they just tossed in "Left" and "Earth" to keep the moron in me guessing. Still at it.

Only bikers are allowed to drive over the dam wall, cars and other vehicles stay put. You could walk the stretch and feel the wind on your face. Personal experience says you'll lose ground at least once, irrespective of your weight claims.

Once you get to Nagarjunasagar, there's not much to keep you busy yet. An easy miss is the View Point…unless; you are interested in looking at the parched dam wall through a labyrinth of cables.

Head to Ettipotala falls (about 15-odd kms) from Nagarjunasagar and you'll find picture perfect frames to fit into.

For a start, there are more than one ways of experiencing it. If you belong to the salon visits and 'manicure me perfect' breed or you are traveling with your family and toddlers, the APTDC roped in some area of the forest and made it eye-candy for masses and families at large. They even organize a light show at night. By all means, pose pretty or macho, slurp an ice-cream from the APTDC stall and if you got some time on you, feed the monkeys.

If you are a little adventurous, talk to a local, agree on a tip and get him/her to take you to the seldom explored side of the falls.

And, if you didn't belong to either clan above, you are one of us people and it aint rocket science to get to the foot of the waterfall, where it leaves a murky water pool. Take a dip, splash it around or swig it at your own risk. A word of advice here, watch your foot! It's either slippery ground or blame it all on the stray cattle.

Enroute to the Nagarjunasagar dam you'd have driven past Poonami Vijay Vihar, the AP tourism run hotel. While one can imagine I recommend it for food and stay…the lesser known angle is the view from their lawns. The bougainvillea laden railings look out to vast expanses of calm Krishna waters. This is your borrowed space to recline and muse and you take my word on that.

---------------------------------------------------------------------------------
(2) Fitness - Zareer Patell
Some zippy jazz plays in the background as we walk into the large 'sweat it' hall from one of the many doors of the school he conducts classes in. It doesn't take a keen eye to sift a salubrious 50-something man out of the many panting women and the rare 'give me more' man. Sparing the receding hairline, none else gives away his age. Unmistakably, the fitness instructor you read and heard about.

The initial phone conversations will either discourage you beyond repair or force you to make just one visit. If it is the latter, you'll only be convinced to stay on and absorb the zing in the air. And "fighting fat" can't get better when you spring, sprint, stretch, twist, squat, punch, kick and combat. From aerobics to weight training, cardio kickboxing to self-defence, tai chi and personalized consultations…name it and you'll find it here.

Zareer Patell only makes the most honest and cutting comments the first time he meets you and in all the sequent meetings, you'll know that's the way he is given to work. If you are fat, he doesn't call you "healthy". He puts it matter-of-factly. The author offers it's all part of the big plan…if you persist, you'll gain from his experience in more ways than you'll ever imagine.

There are some weird/unique things first-timers can't help but notice here:

- On your first day, you'll only watch them sweat. A pseudo-preparatory class in effect.
- The classes span 45-mins here…unlike the conventional hour (or, more or less)
- The "picnic" students get to go on after half-time.
- The cutting edge numeric system that Zareer follows in the class
- The fee pattern
- And the most important…no two days look the same.

---------------------------------------------------------------------------------
(3) Theater - A review of "Love Letters"
In the times of Saturday night love-stories and MMS scandals, Andy Makepiece Ladd and Melissa Gardner play snail-mail lovers…liked, trusted, desired, ignored, forgotten but loved all the way.

The intricate weave of a lost art of communication with a fading emotion is delivered to a packed audience by two powerful artists and the result; junta laps it up like 'Podgy', Andy's pet.

Through the length, the two-act play delves into their contrasting backgrounds, interests, career-graphs and personal lives. The characters bear no resemblance, they seldom meet but the yearning for the other is felt almost always – at the dance party, over wedding invites, the christmas greetings, even in the nostalgic paintings of "Kangaroos hopping over the Orange Juice".

Splattered with generous slang and sarcasm, the play makes an easy watch even for the late-night movie buff. Only, Love Letters will make you drive back thinking about the lost pen pal you met while on the train to spend vacations at your grandparents.

A perfect reason to channel primetime audience away from the KKK clout.
posted by Shivranjini Krishnamurthy @ 10/29/2007 07:22:00 PM

About Me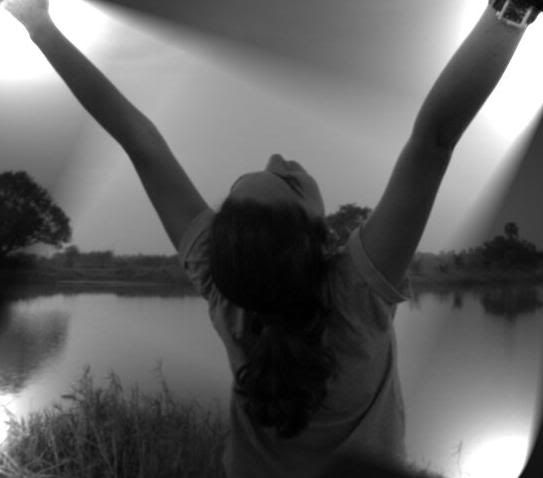 Name: Shivranjini Krishnamurthy
Home:
About Me:
See my complete profile
Previous Post
Archives
Also scribble at
Template By