Thursday, September 24, 2009
Varanasi – the land of cattle power, Undisputed Faith, Samosa Kachodi Kular chai and Betel Spit
Aboard Kashi Vishwanath Express' AC compartment, the air smelt a mix of faint betel juices and the inherent Indian Railways grime and soot. The helper in the compartment was a native and spoke in a dialect that insisted all sentences start with, "Hum" or "Humein". The sweet tea was laced in abundance with Rail Nir to render it unsippable.

The train arrived at the destined platform at Varanasi (Hereafter, Banares) Junction and the place swarmed in some unspoken chant of harried pilgrims. They all painted a face of chivvied income tax evaders forced to a pilgrimage to Banares for penance.

We fought through a melee of coolie (porter) and cab/auto rickshaw drivers to approach a cop for the right price to pay for our destination in town. The cop promptly rubbed his bulging samosa/kachodi swell and waved at an autorickshaw driver. Before long we were waggling through the serpentine potholed roads to our destination at HanumanGhat. The roads narrowed, curled, bumped, burped and we were finally spit out by the angry rickshaw engine outside the pandit's residence.

The lane was about half a meter in width and if you could do the horizontal martial arts split, you could very well have your feet rest on the window sils of houses on either side of the lane.

Our first common impression to our fortnight's residence in town was of shock (a clear understatement).

The ground floor smelt of incense and other ritualistic niceties. If you stood around a little longer, you wouldn't miss a well-toned helper giving the pet cows a wash. The associated stench or essence of course lingers all over the three-storey house.

A steep climb reaches you to a floor bearing an overwhelming aroma of coconut laced south-indian dishes, clubbed with stench from ill-kept common bathing and relieving space. Our living space to be was a dingy room on this floor. The ceiling fan moved in tandem with the cow's gait and it kept bringing wafts of olfactory irritants.

Soon we sprang to feet and ventured out starving, sweating and looking for a decent hotel room to lodge our bags into and wash up and feed our shrinking digestive bags. Walking on foot in Banares is quite a stunt. If you are up for it, you'd challenge yourself to doing a spin, dip, duck, hop, pointe et al and get to your destination without getting unindentified leavings on your footwear.

By early noon we lodged at a not-so-bad-predominantly-pilgrim-occupied hotel. Hotel Jitendra brought back prompt memories of a namesake yesteryear Bollywood star. A flash of thought made me wonder if he ever travelled to Varanasi and if he wore his famous all whites (including footwear) and if he survived the splash of not so welcome smearings on them.

Once we settled for a decent resting space, it was absolutely noticeable that the average native's digestive system is well-geared for an early morning deluxe breakfast spread. The menu usually includes fried samosa/puri/kachodi with spicy sauce and choley (Garbanzo beans in curry paste), downed with sweet chai in Kular (earthen cups), quickly follwed by paan (betel leaf folded with betel nut and syrupy sweetener). One could optionally add hot jalebis (squiggles of fried pastry dipped in sugar syrup) with thickened milk after the fried savory treat.

Our city-bred stomachs only lasted 2 samosas in the evening and with a shot of earthen-pot chai.

Ganga Maiyya (mother) is dying Bhaiyya (Brother. The most popular way to address a man across Uttar Pradesh)!

She is choking with samosas, bangles, turmeric and saffron, cremation ashes, detergent leavings, animal carcasses, currency, cloth-offerings, human bodies, plastic bags, et al. Yes, she's experiencing indigestion and before you pour a tanker-load antacid into her, I'll rather have you leave her alone.

Each morning paints a brilliant canvas in colors of saffron, green, turmeric and vermilion at the banks of Ganga. Nudity is in abundance at all ghats. The best of glistening, tanned, toned bodies dive off into Ganga each dawn. Every deep dive fetches a handful coins dropped into the river womb by devotees in reverence of the goddess.

There's a parallel and very concerted process about asphyxiating the river in all that her devotee chooses to do in remission, cleansing, praying, wishing or just taking a leak. It offered to be quite candid for the shutterazzi in me but the humane me refrained from polluting it further and refused to wash away the sins in her. The daily evening aarti is also a sorted-out meticulous action of further feeding her womb with tons of earthen lamps and sacred foliage.

All life forms in Banares seem to accept; the oldest living city is perfect with mounds of garbage, swamped roads, cobbled grimy streets and algae-stained walls. In common approval, they all nod, smile and chorus, "ehi to banares hai bhaiyya."

Temples in Varanasi compete in popularity with the samosa-chai joints. They get as many visitors as any average pracheen (ancient) chai ki dukaan. Only you pay a fortune in devotion instead of a measly 3-10 INR in devouring your piquant snack.

All religious junctions aka temples have a swarming load of priests dressed in striking saffron and yellow clothing and demand 3-digit monetary offerings to be blessed through divine channels. In return, you get vermilion and yellow threads tied to your wrist, sacred pendants or simply a few whacks with a peacock-feathered-broomstick accompanied with cryptic Sanskrit chants that sound like swear words for the uninitiated.

All spanks, whacks, threads, colored water and pendants come with verbal guarantees of health, wealth, dozen children, motar gaadi (car) and a host of other human drools.

Bovine companions are omnipresent in every nook and cranny. They compete in pace with autorickshaws, refuse to budge from their careful resting spots at road intersections and relieve themselves on parked scooters. Natives don't seem to mind them and weave past in uninterrupted harmony.

Honking is the favorite recreative sport of Banares; toot to greet, toot to park, toot to indicate a jerky turn, toot to spit, toot to ram into you…et al.

Banares also has government approved bhaang (cannabis leaves) shops aplenty. One would like to assume, they count bhaang a necessity amidst, rice, flour and pulses and ensure a monthly supply of it without fail. Every evening, auto rickshaw drivers huddle in brethren and smoke up to forget the day's ragging customers and chant an occasional "Jai Shiv Shambhu" to please the reigning god of the city.

Banares is a fun city to look through binoculars. Natives swear by the city's authenticity as the Hindu Pearly Gates. Every day witnesses a few hundred cremations and a thousand other rituals performed to please Shiva – The destroyer or the god of death. Hindu pilgrims travel from across the globe to pray for Moksha (palliation from the karmic circle) of their departed ones and ancestors dug up from the yore; hoping to gratify the gods and seek death without suffering.

Banares presents a kaleidoscope of emotions, a microscope of infrastrusture, steel bellies, rich cultural past, richer cow dung present, firm devotion, firmer pot holes and of course a bhaiyya that usurps every man's charm with his paan stained smile that always breaks into an effervescent, "Jai Ganga Maiyya".
posted by Shivranjini Krishnamurthy @ 9/24/2009 03:51:00 PM

About Me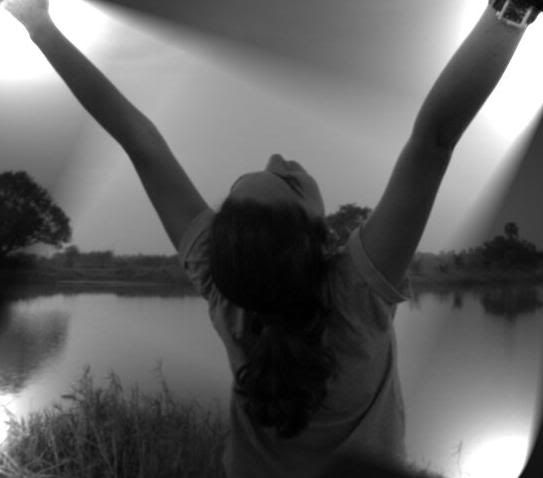 Name: Shivranjini Krishnamurthy
Home:
About Me:
See my complete profile
Previous Post
Archives
Also scribble at
Template By