Monday, May 24, 2004
Up above the world so high...

...s/he's a star in the sky (genetic engineering)

Seldom did I realize that this reel-life hangover will last well over a week now. Presenting! a maudlin me, oven fresh in as much trance as I was when I stepped out of the movie hall.

After much preparation and last minute rollbacks, I and a friend were hastily ushered (we were delayed by some 10 mins) into the bright red bucket seats of Europa Lounge. The film in discussion: The Passion of the Christ.

Here's an account of some that I could capture with my pair of measly tool to vision and MY interpretation to a mishmash of facts, depiction, thought, muse, et al.

Scene 1: Satan in dialog with Jesus in the Garden of Olives but the latter is unperturbed by former's idea of, 'no one man can carry this burden, i tell you' and reasons to the force: "Father, you can do all things...but let your will be done, not mine".

Convinced enough to use my scarce knowledge to self-exile (Meditation), I'll attempt a comparison of the protagonist (Jesus) to 'the good human' as termed by the societal brutes across civilized hierarchy...s/he who be controlling the mind as against the les miserables of my cadre.

Point two: With requests to the Christian fraternity to forgive any sacrilege(if this idea so constitutes), the evil (represented by the Satan) and the good (represented by the Force) remain a 'single' identity, they house under the same roof - His version of the play-dough doll aka human.

My interpretation: The protagonist conquers the evil within and nails it hard on the cortex that 'self-deliverance' is 'possible' and has NO strings attached. The 'How' of it is your take on life.

Call it strategy, if you WILL, but the peg is to pave an individual path to achieve a 'common' motive. Behold! now, does that cause you to be demoralized and yet reading this **** on commonality. Fikar not, for you miss to see the brighter idea of paving your 'own' path.

For you are neither different nor same. You are 'unique'.

Here's another, you slumber with none to annihilate the bungee jumping sprees in your REM.

Dig any further??

Take a break! The rest of it comes to you in bits n bytes.
posted by Shivranjini Krishnamurthy @ 5/24/2004 10:50:00 AM

About Me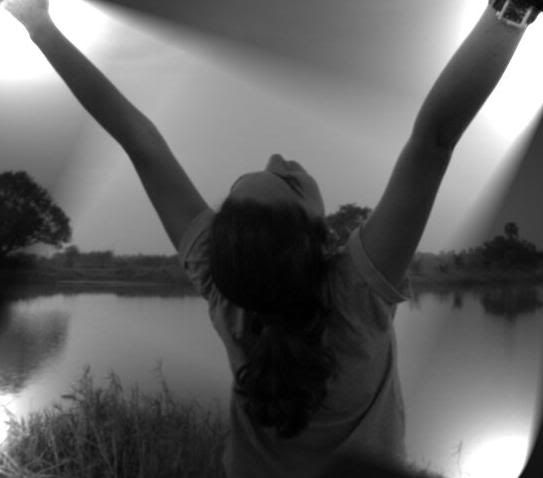 Name: Shivranjini Krishnamurthy
Home:
About Me:
See my complete profile
Previous Post
Archives
Also scribble at
Template By